The intelligence failed President Uhuru Kenyatta with regards to picking his running mate before the 2013 general polls, political analyst Collins Ajuok has said.
Uhuru picked Deputy President William Ruto, with whom he proceeded to secure his first term in office before securing a second term in the 2017 polls.
But Ajuok now says that it is because of the mess by the intelligence body and security agencies that Uhuru is having it impossible coexisting with Ruto.
This comes at a time when the two have fallen out, with Ruto even proceeding to raid Uhuru's Mt Kenya backyard and taking away his allies.
Ajuok opines that it was the job of the agencies to look at who Ruto was before allowing his ticket with Uhuru, since Uhuru was former President Mwai Kibaki's regime's preffered successor.
"As the outgoing regime's favourite candidate, he should, in fact, question the intelligence and security services for allowing such a ticket to pass," he says in an article in The Star.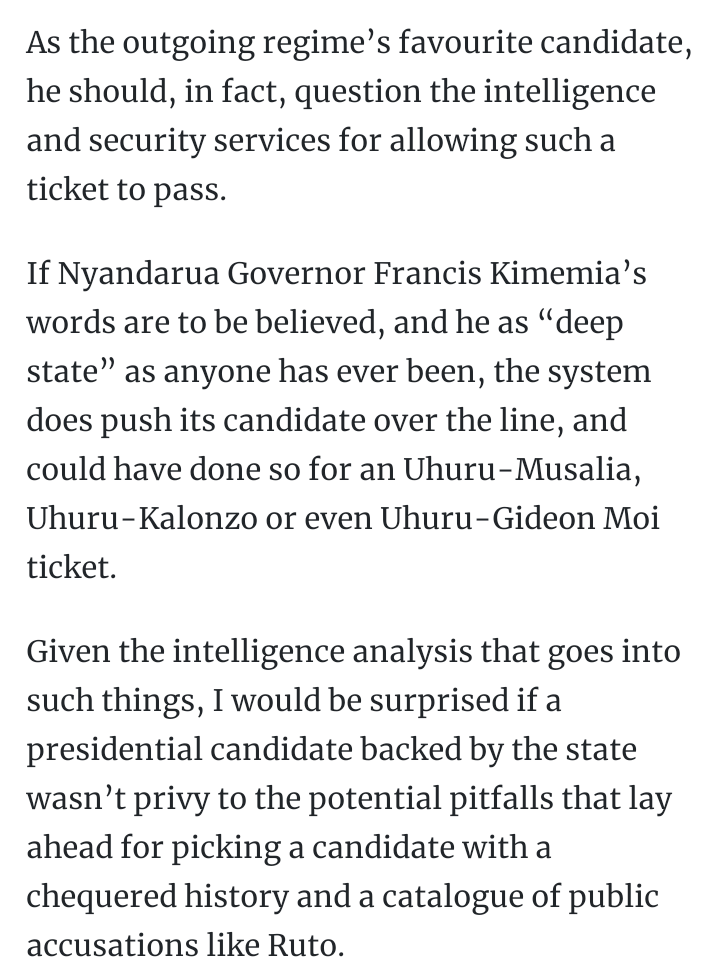 He states that it's also possible that the agencies warned Uhuru about the pitfalls that would be on his way if he worked with Ruto but he ignored them.
He argues that it is almost impossible that as a state backed aspirant he was not privy to intelligence's findings on what Ruto was able to turn into.
This is as he opines that there are many people who would have joined Uhuru in the presidential ticket and wouldn't have stressed him as Ruto is currently doing.
These, he observes, could even include ANC leader Musalia Mudavadi and Wiper party's Kalonzo Musyoka, who would have willingly taken up the role if he offered it to them then.
"If Nyandarua Governor Francis Kimemia's words are to be believed, and he as "deep state" as anyone has ever been, the system does push its candidate over the line, and could have done so for an Uhuru-Musalia, Uhuru-Kalonzo or even Uhuru-Gideon Moi ticket," he adds in the article.
Ruto has now began refering to Uhuru as one of the rich men trying to force leaders on Kenyans, after Uhuru reneged on his earlier promise to endorse him.